Home
The Garden Center is Crawfordville's source for all of your lawn, garden and landscaping needs. We have a large selection of plants, outdoor supplies, pottery, pavers, concrete statues, bird baths and fountains. We also offer a full line of organic (Dr. Earth, Espoma, Worry Free, Ecosmart) and non-organic (Ortho, MiracleGro, Pennington) gardening products.
We also offer a comfortable 3000 sq. ft. showroom that is open all year round. We have the area largest selection of modern vases, vintage vases and floralware. We have a full line of wild bird food, feeders and accessories. And if that isn't enough, we also carry a large selection of yard art, patio furniture & accessories and we are a complete landscape provider.
The Garden Center by Gatortrax is pleased to announce that we are now a retail supplier for sod. The following types of sod are currently available: St. Augustine, Centipede, Bermuda, and Zoysia.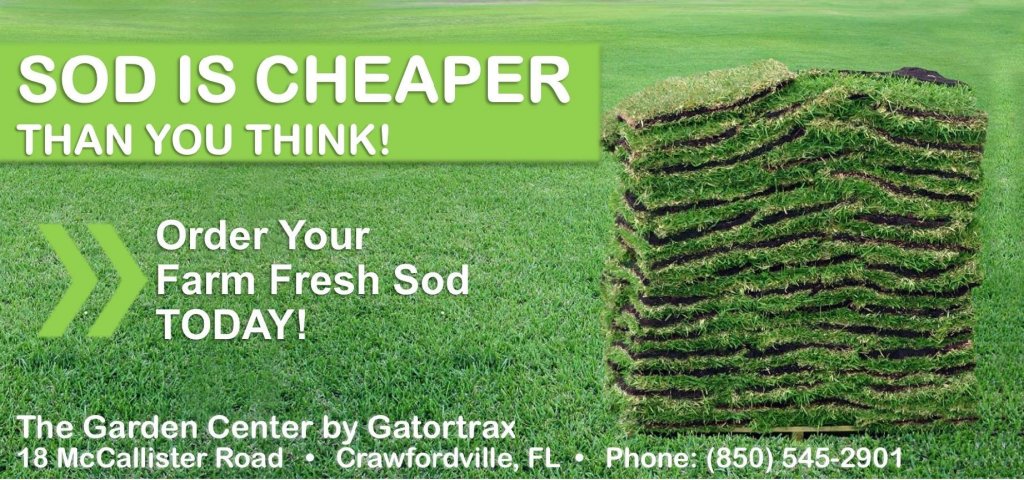 Our sod is fresh and cut to order. When you order a pallet of sod, we call and have it cut fresh and brought directly to the store. Then, you can pick it up at the store, have it delivered or have the sod delivered and installed by our team. We do not sell individual pieces or have sod sitting around on pallets for several days. Our fresh cut delivery ensures the freshest and healthiest sod available for your lawn.
If you need guidance with your particular project, we are here to help. We offer free consultation to help you decide what should be done to ensure your project gets done correctly and your sod does not turn brown. We can pin-point specific issues that we may see and offer remedies to correct the problems, if any.
We have also been called to do a lot of repairs and re-do's that have been done by other "sod companies" that were not done correctly. We can determine what was done wrong and rectify the problem to ensure the problem doesn't happen again.
Also, if you need irrigation installed or repaired, we do that too! We recommend and install Hunter irrigation products.
For sod pricing, including delivery and installation, please call us for further details (850) 545-2901.
If you are in need of landscaping, flower bed installation or maintenance, please visit our Gatortrax website at www.gatortraxservices.com